barn dance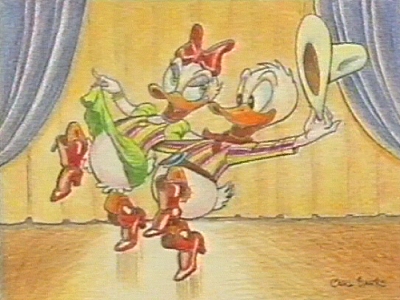 1996 drawing for "Children in Need" Reproduction taken from the cover of German magazine "Seufz 2056" No. 21 (December 1996), published by Richard Jebe.

On November 27, 1996, German broadcasting company RTL ran a 24-hour collection campaign "Children in Need". Within this campaign, every full hour some relics of celebrities got sold by auction, e.g. the guitar of Peter Maffay (ever heard of him outside of German-language countries?) or the neck-tie of Helmut Kohl. The most interesting item came to auction at 2:00 p.m.: a crayon painting by Carl Barks, which he did exclusively for this campaign.

A 28-seconds lasting film shot showed Barks drawing the picture and having him say that his contribution is a crayon painting of Donald Duck and Daisy. Because they dance together so nicely, Barks named this picture after an American dance: the Barn Dance.

The picture got sold at the auction for DM 4.000 (about $ 2.500). On the other hand, Helmut Kohl's neck-tie only made DM 300 ($ 190).
---