Stamp Collector's Bad Moment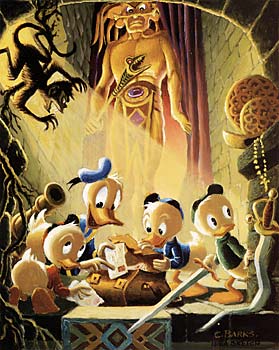 When the art was for sale at Ebay in July 1999 (item #134846767), the seller told in his description:

In the seventies Barks did a collection of approximately 20 paintings what he himself called "idea sketches". This oils were smaller and a little bit rougher than what he (at that time) understands as a finished oil. After he did about 122 oils between 1972 and 1976, at least one painting a week, the Disney permission for him to paint was stopped.

After a few years of non-Disney-oils and other paintings, Barks got the Disney permission back when he was honored as a Disney-legend at his 80th birthday. Meanwhile he got tired about the hurry from the late seventies Disney oils. He now preferred doing only a few, but well composed oils. He did some experiments of composing the characters, the light, colors, perspective and so on. And finally - he painted those ideas in oil.

Idea sketches like "Stamp Collector's Bad Moment" might be comparable to the oils of the seventies but Carlīs intention of painting has gotten a new quality: they all should be reproduced as a fine art lithograph for a price, most of the oils of the seventies were sold for. So not even all idea sketches were redrawn as a big gloomy popular painting and the others, what his publisher donīt like to reproduce kept the label idea sketch. Long story - a picture tells more than 1,000 words...
---