The Unsafe Safe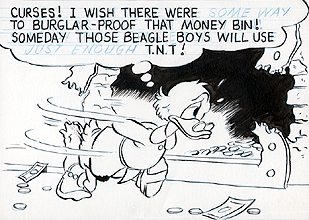 Remembering his early 1960s visits to Carl and Garé, Joseph Cowles recalls a time when Barks had him experiment with inking a few panels of an Uncle Scrooge story. Using a light box, Joseph first traced the image, in blue pencil, from a half-page that Carl Barks had finished. Then, sitting at Garé's drawing board, Joseph went to work with the inks.

One of the panels that Carl Barks had Joseph experiment with, panel 1 of page 4, is shown here as illustration.

In an August 4, 2000 e-mail, Joseph Cowles wrote about the panel: "You can tell from the smears and erratic lines how much difficulty I had using Barks' Esterbrook 356 pen point. Probably, with practice, I could have got the hang of it, but, at 19, the control just wasn't there."

Nevertheless, Carl Barks himself must have seen something promising in Joseph's practicing, as he at another time let Joseph ink a few panels of background. According to Joseph, three or four panels of his background inking efforts were published. "Certainly very minor stuff," he added. "I remember inking trees or tangles of roots or something like that." According to Joseph, three or four panels of his background inking efforts appeared in the published story.

At the moment, there's no verification if this art appeared in "The Unsafe Safe" or in another story.

After having shared these recollections of nearly forty years ago, Joseph warned that they should not be regarded out of proportion to how conditions actually were. In an August 6, 2000 e-mail, he emphasized that his experimenting at the Barkses house did in no way mean that he had become a Barks associate, apprentice, employee, co-worker or anything of the sort:
"The Barkses magnanimity in allowing me to visit them as a duck fan, which was certainly an intrusion on their personal lives as well an interruption of their frenetic working schedules, was heightened by kindness in their taking time to show me, as a young lad considering the possibility of cartooning as a career, exactly how they went about their business."
---
| | |
| --- | --- |
| | Generated by DVEGEN 4.8b on 2012-11-24 |