The Candy Kid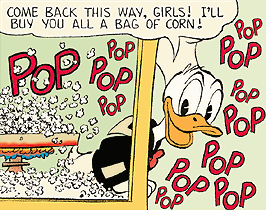 In his 1969 list of work for Western, Barks wrote: "I dreamed up this story to feature Joe Cowles, a fan who was working on a popcorn machine at Disneyland."

A March 19, 1961 letter to Joseph Cowles shows Barks thinking over the idea:
"I'll make a note to do a drawing of the ducks for you when we get back from town. A duck peanut vendor, okay? Are you still at Disneyland? Remember to keep a list of the grievances that beset a peanut vendor. There may be possibilities there for a Donald story. My error! That should have been a popcorn vendor.
We hope to pay another visit to Disneyland before long. We have been there twice since it opened, and enjoyed ourselves a lot. I'd like to see that popcorn machine. Already scenes of Donald getting the kids' firecrackers mixed up in the popper are coming into focus."
When asked about the making of this story, Joseph Cowles wrote in a July 29, 2000 e-mail:
"The Candy Kid" is Barks' wonderful adaptation of a rough script based on some of my misadventures as a high school teenager working at Disneyland in Anaheim, where I grew up. Probably the only gags of mine that Barks actually employed in the finished story have to do with popping too much popcorn at one time, and Donald's getting to watch "all the chicks go by." The Barks version was infinitely better than mine. My original story took place in Disneyland, but Barks wisely changed the venue to the "Duckburg World's Fair," paralleling the Fair which opened in Seattle that year. Thus, the setting for the spinning Space Needle sequence.
---