---
| | |
| --- | --- |
| BIBLIOGRAPHY | Finland Audio/video |
---

previous page | next page
This page contains the following items:
---

top of this page | sources | e-mail | forum
- Carl Barks, Ankkameastro / (Carl Barks, The Duck Maestro)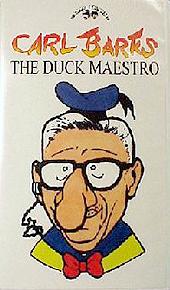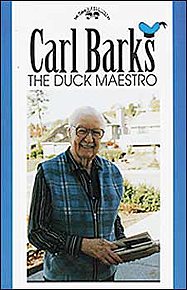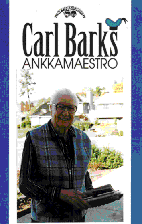 Inducks: ...

Publisher: Good Fellows Ky.

Publication date: 1994

Country: Finland

Type: videotape
Description: VHS PAL-format, colour
± 90 minutes (deluxe version, limited to 150 copies)
± 60 minutes (regular version)
Contains an interview by manager Bill Grandey, videotaped in 1995 at Barks' home in Grants Pass, Oregon.
The deluxe version includes a signed 17,5 x 25 cm print of a Barks self-caricature, according to the signature done in 1994. The cover of the video has a 9,5 x 14 cm picture of Barks standing outside his house, the back cover has a picture of him in his studio. The regular version is also released as a Finnish subtitled version with the title "Carl Barks, Ankkamaestro", which maybe is not the case with the deluxe version. A note on the back-cover of the deluxe version says that there are additional 20 numbered publisher's proofs.
Questions: Possibly, the very same video was offered on Bud Plant's Spring 1997 Catalog. It appears to have a different cover and there's no mention of it being PAL. It's likely that this is the same video because the catalog says "Produced by Good Fellows Ky of Finland. In English. Gifted Images. 90 min." Is there someone who knows more about this?
Sources | image: © [unknown]

top of this page | previous page | next page
---
---
| | |
| --- | --- |
| | Generated by DVEGEN 4.8b on 2012-11-24 |